Delicate 3D Food Printer

This 3D food printer is an innovative application of advanced 3D printing technology in the food industry. It is a significant upgrade in personalised chocolate modelling, which provides infinite possibilities and the ultimate solution to diversity of chocolate shapes. It can be used at home, in bakeries, cafe's, restaurants, butcheries, corporate functions and other business areas.



Features:
Easy operation - Free and easy-to-use downloadable software

Just load the mold files into the machine and start printing. Users can control the process of printing in real time using the 3.7" full colour touch screen.

Adjustable printing speed and temperature

Due to real-time temperature control, every little change is controllable. This will not only makes your work more exquisite, but also protects the nutritional ingredients from damage.

Anyone who knows how to operate a computer can operate this machine without hindrance

Enjoy the wonderful process of becoming a Bakery Master!

Turn all your creative ideas into funny and cool delicious treats

For easy realisation of chocolate designs, we also provide a huge number of models with the machine
3 Steps to Quick Printing!
Model file processing - install the slice software in your computer first, and do parameter settings by slicing. Users need to convert STL format to G-code via slicing software.
Connect to printer - save sliced G-code file in the U-disk and upload to the machine.
Start printing - Load food tube, find your file in the machine, set printing temperature and then start printing.

What can it print?
More than 20 different foods from various categories, including: sweets, minced meat, milk products and dough.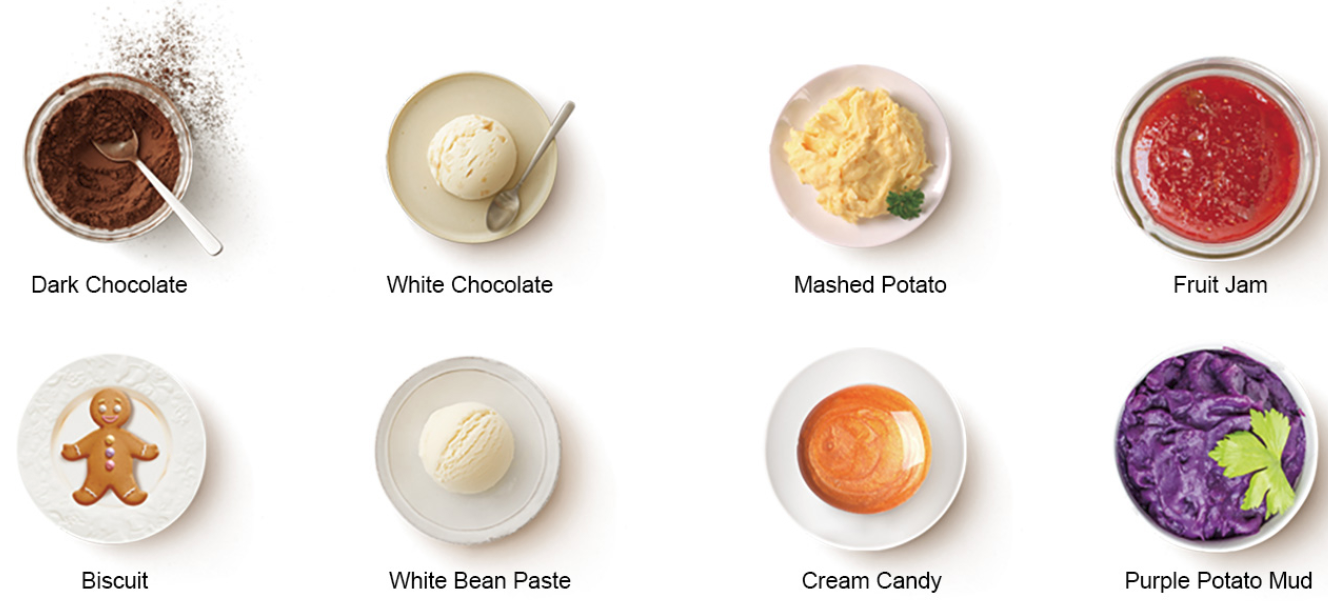 Specifications:
Dimensions

192 x 380 x 420mm

Net weight

10kg

Power

50W

Printing size

90 x 90 x 70mm / 110 x 110 x 75mm

Positioning accuracy

XY Axis: 0.1/100mm Z Axis 0.01/100
E Axis: 0.01/100mm

Nozzle diameter & quantity

0.4-1.55mm x1

Printing speed

15-70mm/s

File formats

STL/G-code