Infrared Motion Sensor Tap Adaptor

This Infrared Motion Sensor Tap Adaptor helps prevent the spread of germs and lowers water consumption at home. It is easy to install and looks elegant in any setting with its beautiful aluminium casing. It can turn any regular tap into a touch-less, smart device and features two sensors for short and continuous water flow. The motion sensor night light makes it easy to get water in the dark and its powerful battery can be charged wirelessly and lasts up to 8-10 months per charge.

See this Adaptor in action here!
Two Sensors
The adaptor houses two sensors - one at the bottom for short bursts and one on the side for continuous use. With a simple swiping motion, turn the tap on or off.

Simple 3-step installation
Anyone can install in a matter of minutes. No need for a plumber to replace existing taps - simply click the adaptor into place.
Activated Carbon Fiber Filter
Within the housing, we installed an activated carbon fiber composite filter to purify 100% of the contaminants.
The product comes with 3 filters.
Six different connectors
Ensures that the adaptor works with almost any type of tap


Motion sensor night light
There is no need to turn the main lights on, this dimmer and less intrusive light will guide your way to the tap. The motion sensor prevents the nightlight from turning on during the day and there are 7 nightlight colours to choose from. (Note: Night light function can be turned off).

Powerful built-in battery
The powerful built-in Lithium Ion battery lasts for 8-12 months per charge. With magnetic recharging and long battery life, it consumes minimal energy.
65% savings on water
Through extensive testing it was found that it saves up to 65% of household water! The product will also automatically turn off after 3 minutes of continuous activation.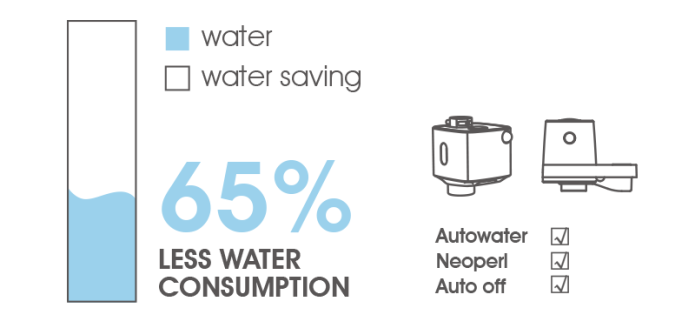 Setting mode
The setting button / power button (located on the top of the adaptor) has the following functionalities:
Turn on/off the LED night light function

Shut down and power up the device

Adjust the underside sensor's range

Change night light colours
| | |
| --- | --- |
| Parameters | Value |
| Material | Aluminium Alloy |
| Water Inflow Volume | Dependent on individual user's tap |
| Water Outflow Volume | 5-6 Litres |
| Battery Type | Lithium-Ion Battery |
| Capacity | 1.40 mAh |
| Charging Time | 4 hour |
| Battery Life | 8-12 months |
| Sensor | Infrared |
| Light | Motion Sensor LED |
| Dimensions | 58.4 x 55 x 77 mm |
| Weight | 0.48 kg |
Please be warned that the adaptor is NOT compatible with the following kind of taps: